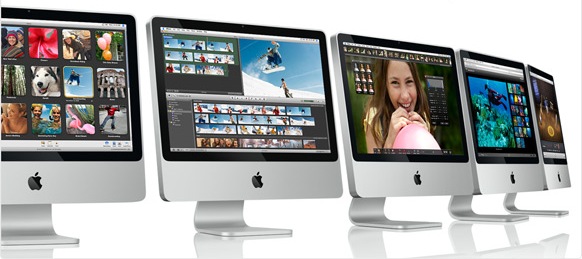 Apple unveiled its latest range of iMacs yesterday, complete with brushed aluminum casings, ATI DX10 graphics cards, Core 2 Duo CPUs, yah-dee-yah-dee-yah. We all know you want one. Engadget has coverage of all the latest Apple products, or you can read the full iMac specs after the jump.

Apple® today unveiled an all new all-in-one iMac® line featuring gorgeous 20- and 24-inch widescreen displays encased in elegant and professional aluminum and glass enclosures. The entire new iMac line features the latest Intel Core 2 Duo processors and a new, ultra-thin aluminum Apple Keyboard, built-in iSight® video camera for video conferencing and iLife® '08, making it the ultimate digital lifestyle desktop computer for both consumers and professionals. The 20-inch iMac now starts at just $1,199, $300 less than the previous 20-inch model, and the 24-inch iMac starts at just $1,799, $200 less than the previous 24-inch model.




"This new iMac is the most incredible desktop computer we've ever made," said Steve Jobs, Apple's CEO. "Our new design features the innovative use of materials, including professional-grade aluminum and glass, that are highly recyclable."





Redefining Apple's signature all-in-one design, the new iMac integrates the entire computer system into a sleek, professional aluminum enclosure for a striking, clutter-free desktop. An elegant glass cover joins precisely to the aluminum enclosure creating a virtually seamless front surface. The new iMac's 20- and 24-inch glossy widescreen displays provide incredibly crisp images, ideal for photos and movies using the all new iLife '08 suite of digital lifestyle applications that are included. The new ultra-thin aluminum Apple Keyboard is just 0.33 inches thin at its front edge. A new optional Apple Wireless Keyboard is a compact design that, with Apple's wireless Mighty Mouse, offers a cable-free desktop.

Packing professional performance into the convenience of an all-in-one design, the new iMac includes the latest Intel Core 2 Duo processors running up to 2.8 GHz with 4MB of shared L2 cache and up to 4GB of 667 MHz DDR2 SDRAM memory. The iMac line features ATI's next generation of graphics with the ATI Radeon HD 2600 PRO with 256MB of GDDR3 memory and the ATI Radeon HD 2400 XT with 128MB of GDDR3 memory. The new iMac now offers up to 1TB of internal storage to accommodate a user's growing library of digital photos, movies and music.

Providing the latest in high-performance connectivity options to quickly and conveniently transfer digital photos, music and video, the iMac includes built-in AirPort Extreme® 802.11n Wi-Fi networking, delivering up to five times the performance and twice the range of 802.11g;Gigabit Ethernet; a total of five USB 2.0 ports (including two on the new Apple Keyboard); and one FireWire® 400 and one FireWire 800 port.



Source